Options
In addition to the basic configuration, you can "assemble" your luminaire: select the necessary components and options.
emergency power supply unit for 1 or 3 hours
T- and X-shaped luminaire joints
paint the luminaires in any color RAL
transit cable hidden in the housing
swivel or surface lamp mounting
version with adjustable brightness
wired and wireless lighting control
intelligent customer tracking system
ledz e-Trade LED luminaires are designed for stores, pavilions, hypermarkets, construction hypermarkets and other similar objects of any scale. The linear shape of the luminaire is ideal for logistic centers and shelving storage warehouses, since it allows optimal distribution of light along the racks. They are also successfully used in logistics centers, warehouses and in industrial premises with the requirements for dust and moisture protection, since in addition they can be protected by the IP54 standard.
It is very convenient to use e-Trade luminaires for a long time due to the removable top plastic cover, since even inexperienced personnel can reconfigure or replace the driver without removing the luminaire from its suspensions. Inside, all the wires and power cables are connected via Wago spring terminals, this allows the installation organizations to quickly connect the fixtures to the network and quickly hand over the object, which reduces the cost of work at the facility.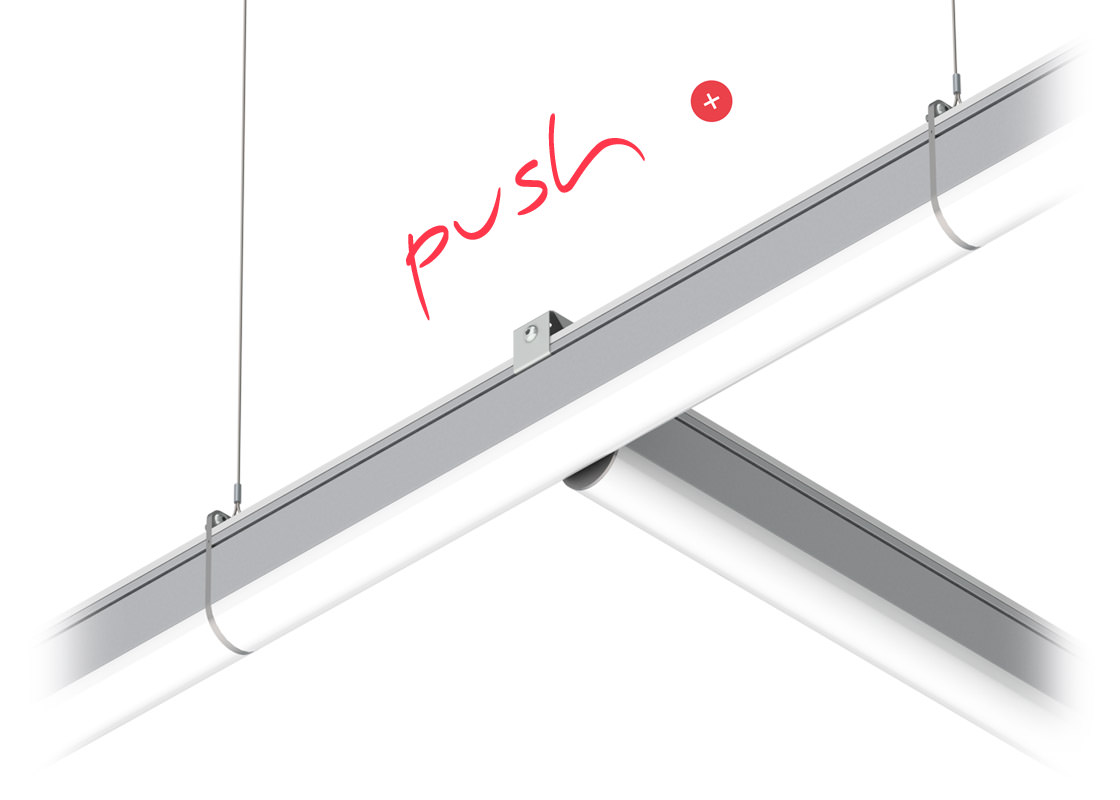 Unseen joint
The joint between the luminaries 3-4 mm in size is completely invisible from a distance of 3 meters – as a result you will get beautiful continuous light lines in the sales area
T- and X-shaped joints
Thanks to a simple T- and X-shaped connection, you will be able to connect the fixtures in any designs: in a line, at an angle and a grid, which is important first of all to designers
Simple installation
Mounting fixtures is done in 1 minute thanks to the ready-made holes for the cable or carabiner, and the joint is fixed with a screw with a nut. Installation organizations appreciated the simplicity and speed of installation
Convex diffuser
The diffuser in our luminaire is made of matte polycarbonate Mitsubishi, which eliminates the blinding effect and at the same time allows a lot of light, there is also a version with a transparent diffuser
Removable cover
The cover of the luminaire is easily removed and allows you to quickly repair directly on the spot, without removing the lamp and without sending it to the factory – call us and we will replace everything
e-Trade luminaires easily fit into continuous lines and look very stylish and airy. To connect them in a row is very simple and fast: adjacent luminaires are suspended on one rope and fixed. No additional sections and other elements are needed, this is what distinguishes e-Trade from competitors. Designers and developers will appreciate the inconspicuous junction between the fixtures, which does not exceed 3-4 mm, it is completely invisible – from 10 meters you will see only a continuous light line.
In addition, you can choose luminaires with a matte or transparent lens or complement your e-Trade luminaire with lenses from LEDiL Finnish company, which has more than a century of experience in the production of optics. LEDiL lenses are made of a special PMMA Plexiglas with a high transparency of 94% – this is a record. Optionally, a cable can be hidden in the housing for a transit connection of a number of luminaires to a single point, input or transit pressure seals IP68 can be installed.